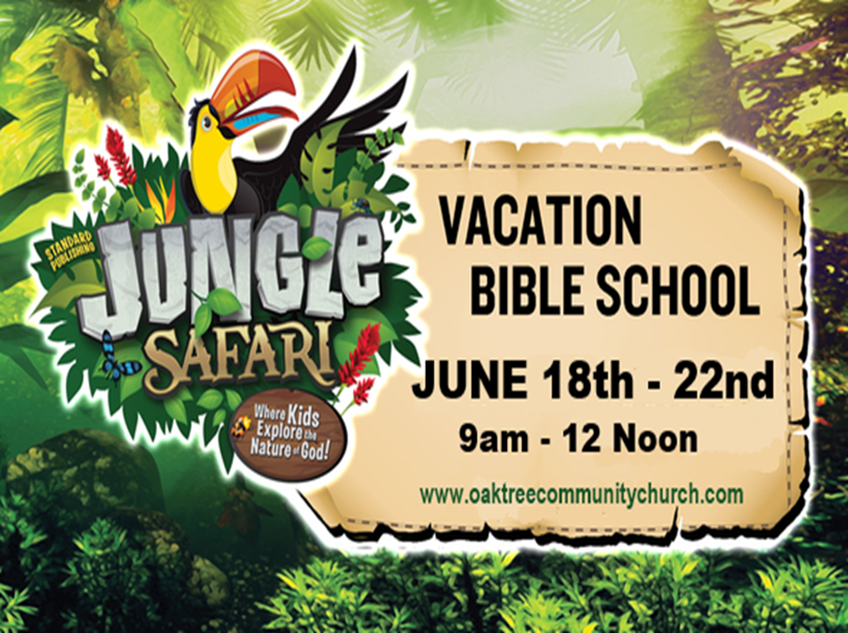 Join us for JUNGLE SAFARI VBS where kids K-6th grade EXPLORE the nature of God. Our Safari Guides will lead them through Lizard's Leap for crafts, sing thru Toucan Jam, visit Slug-a-Bug-S.W.A.M.P for fun games, explore Zip Line Bible Time and stop at Jaguar Junction for snacks.
Prizes for bringing a friend.
T-shirts for each child.
A minimum donation of $5.00 is appreciated.
VBS Volunteer Helpers Registration
We are a community of believers who seek to love God and love people. Join us on Sunday morning for a casual atmosphere, contemporary worship, and a live teaching from our Pastor.
Welcome! Thank you for taking the time to browse our site and find out about us. We hope you'll take the next step, visit us, and really get to know us. You'll be glad you did. We are a diverse, vibrant group of people from all walks of life.                                                            Our community is focused on glorifying God, exalting Jesus, and helping people grow. There is something meaningful here for everyone. Come check out our Sunday service for a great time of worship with the entire Oak Tree community.                                     Come check out one of our many Growth Groups during the week to be rejuvenated, to develop some close relationships, and to help each other grow stronger. These smaller communities are where growth really happens! Thanks for being here. Feel free to stay as long as you want. We hope to see you Sunday. Come grow with us!
Helping people meet Christ and grow in Him
15601 S. Lamon, Oak Forest, IL 60452
Address
15601 S. Lamon
Oak Forest, IL   60452